Detroit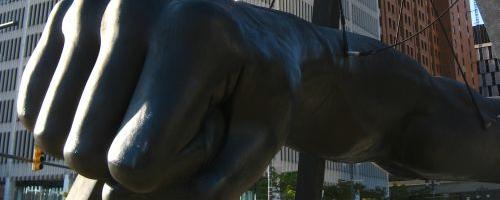 Who we are:
Data Driven Detroit (D3) provides accessible, high-quality information and analysis to drive informed decision-making. Our vision is that essential and unbiased information is used by all.  
We are a statewide organization with a focus on the city of Detroit. We are building a comprehensive data system that includes current and historic demographic, socioeconomic, educational, environmental, and other indicators. This data system allows us to illustrate complex relationships by combining different datasets to reveal the true stories of our regions, cities, and blocks. We are committed to serving all communities; we adapt data into different formats for different audiences.
What we do:
As a one-stop shop for data, D3 has an extensive library for a variety of projects. Our work falls into five categories:
Data Collection - We collect and process administrative and government datasets for use at the local level. When these data are too general for use at the local level, D3 has collaborated with partners to collect primary data to fill geographic gaps.
Data Visualization – In order to ensure widespread understanding and interpretation of data, D3 creates visualizations that help people understand complex and diverse data patterns. Maps are the most common form of visualization, but we also transform spreadsheets into powerful and unique graphs, charts, illustrations and infographics.
Data Analysis - We perform expert analyses to benefit diverse planning efforts for community groups and regional collaborations. We utilize clear and transparent methods for combining and synthesizing various datasets into single measures.
Data Accessibility - We are committed to making data, visualizations, and analyses accessible through a variety of online and printed products. We believe in increasing accessibility while respecting sensitivity and privacy by building relationships and restructuring data so it can be released to the widest possible audience. D3 provides access to national and regional datasets through online tools on our website. D3 also develops trainings about finding and using data. 
Data-Driven Outcomes - All of our collection, visualization, analysis and accessibility work is focused on increasing data-driven outcomes in policymaking and collaborative planning processes throughout Detroit and Michigan. Our work helps build the civic capacity of disadvantaged communities through the infusion of data in collaborative efforts that improve quality of life.
Our History:
From the Michigan Metropolitan Information Center at Wayne State University, to the Southeast Michigan Information Center at United Way, there have been many initiatives to collect and democratize data about Detroit and its neighborhoods. In 2008, The Skillman Foundation and The Kresge Foundation awarded City Connect Detroit a $1.85 million grant to incubate Data Driven Detroit (originally named the Detroit-Area Community Information System).
Within its first year, D3 was selected by the Urban Institute to join the National Neighborhood Indicators Partnership (NNIP). NNIP is a select group of organizations that have built advanced and continuously updated data systems to track neighborhood conditions in their cities.
In December 2012, after an extensive period of review, discussion and due diligence, Data Driven Detroit became an affiliated program of the Michigan Nonprofit Association.  This move has strengthened D3's back office operations and increased our exposure to a statewide network of member nonprofits and philanthropic organizations.
Activities
January 2023 - March 2023
In the first video, learn about real-world examples of data practices at the federal, state, and...
[read more]
May 2022
The National Neighborhood Indicators Partnership has selected Noah Urban, Co-Executive Director of Data Driven Detroit, as the 2022 winner of the Network Steward of the Year Award. The award was...
[read more]
NNIP Strategic Planning Process 2022-2023

March 1, 2022
In late Spring 2022, NNIPHQ, in partnership with CSR Communications,...
[read more]
Partner Webinars
March 18, 2015 - 8:00pm
Jake Cowan, NNIP alumni and consultant, presented on the completed "Monitoring Impact" guide. The guidebook frames defining and measuring performance for local data...
[read more]
Presenters
Jake Cowan, Erica Raleigh, Sheila Martin
Check out our first Idea Showcase of 2015 and work your fellow NNIP partners are doing:  Eleanor Tutt (St. Louis) and Bob Gradeck (Pittsburgh) will present on their idea to hold regular...
[read more]
Presenters
Bob Gradeck, University Center for Social Research, Eleanor Tutt, Rise, Jessica McInchak, Data Driven Detroit, Josh Wheeling, CamConnect