Charlotte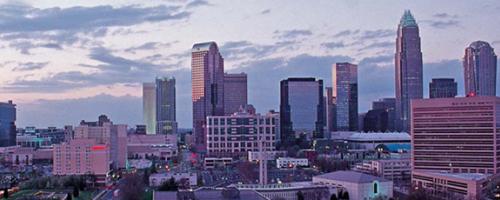 The mission of City of Charlotte Neighborhood & Business Services is to strengthen and grow Charlotte's neighborhoods and businesses. The goal of the Community Engagement Division is that residents, businesses and youth will be informed, engaged, and empowered to take action that improves quality of life in their neighborhoods and across the community.
The City of Charlotte has been engaged in the collection, analysis and use of neighborhood-level indicators since 1993 when the initial City Within A City Neighborhood Assessment was conducted to describe neighborhood-level conditions in Charlotte's primarily low-income, inner-city neighborhoods. The purpose of the assessment was to better understand needs for City programs and services, and to demonstrate that there were ripe opportunities within these neighborhoods for community and economic development. Over the past twenty years, what is now known as the Charlotte-Mecklenburg Quality of Life Study has grown from 73 neighborhood areas in Charlotte's urban core to 464 neighborhood areas covering the whole of Mecklenburg County. As of 2012, the Quality of Life Study contains over 80 variables compiled from administrative records, the American Community Survey, and private sources and is available for view or download in an interactive, web-based dashboard. The study has also been enriched with links that allow users to learn more or discover ways to take action on topics of interest.
In 2013, the City of Charlotte shifted the focus of its indicators work from providing information to facilitating the use of that information by government departments, community partners, residents, neighborhoods and businesses.
The UNC Charlotte Urban Institute (Institute) is a nonpartisan, applied research and community outreach center at UNC Charlotte. Founded in 1969, the Institute is part of UNC Charlotte's Metropolitan Studies and Extended Academic Programs, which includes a number of the university's community engagement initiatives.
The mission of the UNC Charlotte Urban Institute is to seek solutions to the social, economic, and environmental challenges facing our communities. This mission is evidenced and ingrained in the diversity of our projects, as well as in our efforts to democratize information through our web communications and community engagement. We carry out our mission through a range of services including research and analysis around economic, environmental, and social issues affecting the Charlotte region; public opinion surveys; and technical assistance and training in operations and data management.
The Institute maintains a county/regional indicator project, the Charlotte Regional Indicators, is a key partner in the local neighborhood indicators projet, the Charlotte-Mecklenburg Quality of Life Study, and houses the region's integrated data system, the Institute for Social Capital (ISC), along with many other ongoing and one-time research projects.  
The Institute for Social Capital, Inc. (ISC) was created in 2004 as a 501(c)3 created through the UNC Charlotte Foundation. ISC is an integrated data system of individual level administrative data from local agencies. ISC now operates as a research program of the Institute, with a nonprofit subsidiary of the Foundation of UNC Charlotte continuing to operate as the fiscal and legal steward of the ISC database for security reasons.
Mecklenburg County is committed to making data driven decisions. The expansion of the Quality of Life Study presented an opportunity for data sharing across the County with all local government entities, allowing jurisdictions to observe and identify neighborhood-level drivers, trends and other factors that are indicators of neighborhood health. The City of Charlotte, Mecklenburg County and other community partners are working towards using the Quality of Life Study data to pilot enhanced collaboration in providing operational services at the neighborhood level.
Activities
January 2019
As part of the Civic Switchboard project, NNIP Partners in Baltimore, Charlotte, and Houston were selected to collaborate with their public or university...
[read more]
May 1, 2017
City Walks are part of a national and global celebration – known in many cities as Jane Jacobs Walks or Jane's Walks – of free, citizen-led walking tours inspired by Jane Jacobs, a famous...
[read more]
Partner Webinars
July 28, 2022 - 1:00pm
This webinar explored the technology used by NNIP partners for data collection, processing and sharing....
[read more]
Presenters
Elizabeth Burton, Urban Institute, Kailas Venkitasubramanian, Charlotte, Cristina Martinez, San Antonio
December 31, 1969
In 2014, we began holding virtual idea showcases after partners expressed the desire for more NNIP conversations between in-person meetings. Thanks to Idea Showcases, partners have shared their...
[read more]
Presenters
Jennifer Newcomer, Shift Research Lab, Yujie Hu, The Kinder Institute, Mary Newsom, UNC Charlotte Urban Institute