Chicago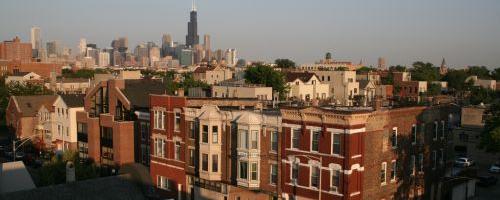 The Institute for Housing Studies (IHS) is an applied research center situated in the Real Estate Center at DePaul University. IHS's mission is to provide housing and community development practitioners, government agencies, and community-based organizations with reliable, impartial, and timely research and data about the state of affordable housing and neighborhood economic health. Annually, IHS typically provides hundreds of hours of direct technical assistance to such constituents. The Institute's work focuses on issues related to the preservation of affordable rental housing and understanding neighborhood market conditions. IHS's research helps housing and community development practitioners understand often rapidly changing conditions in local housing markets, influences policy decisions, helps measure the impact of policy interventions, and raises awareness of emerging affordable housing and place-based community development issues.
IHS accomplishes this mission through:
Data Collection – IHS manages an extensive Data Clearinghouse that brings together public and private data on housing market activity. Datasets include transaction-level data on property sales, mortgage recordings, foreclosure activity, property listing and sales, and property characteristics in the Chicago region including Cook, DeKalb, DuPage, Kane, Kendall, Lake, McHenry, and Will Counties. The Institute also collects and regularly updates regional, census tract-level data on residential vacancy from HUD/USPS and historical demographic and socio-economic data from U.S. Census Bureau and American Communities Survey. IHS collects and works with other local administrative data sets on issues such as crime, building permits, and business licenses. IHS also works with program data collected by partner community-based organizations and enhances it with data from the Institute's Clearinghouse.
Applied Research – IHS mines the rich data collected in its Data Clearinghouse to produce applied research and data indicators that inform the local and national policy debates around the preservation and production of affordable rental housing and the health of neighborhood housing markets. This information is connected to IHS's audience of housing and community development practitioners through its web site which includes a Housing Market Indicators Data Portal tracking 16 data indicators of housing market health.
Community Engagement – IHS maintains strong relationships with key local and national housing and community development practitioners. These active relationships inform the Institute's research and connect its work to policy, practice, and the issues facing neighborhoods today. IHS works with housing and community development stakeholders to provide technical assistance that helps them apply the Institute's research and data to their day-to-day work.
Activities
May 2, 2022
In May 2022, the Institute for Housing Studies (IHS) at DePaul University...
[read more]
January 2021
One of the unique characteristics of the National Neighborhood Indicators Partnership (NNIP) is that the network was founded by the partner organizations and it continues to be led by an Executive...
[read more]
December 2020
The Institute for Housing Policy is ...
[read more]
Partner Webinars
December 31, 1969
...
[read more]
Presenters
Geoff Smith, Institute for Housing Studies at DePaul University, David Harris, Urban Strategies Council, Jocelyn Gama, Urban Strategies Council, Jacob Virges, Urban Strategies Council, Jennifer Newcomer, Colorado Futures Center, Charles Bruner, Child Equity
October 24, 2019 - 1:00pm
...
[read more]
Presenters
Peter Ciurczak, Boston, Geoff Smith, Chicago, Caroline Bhalla, LA, Amy Confair, Philadelphia