Grand Rapids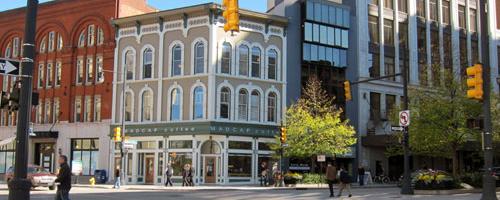 Subname:

Grand Valley State University
Institutional Setting
The Community Research Institute (CRI) at Grand Valley State University is a partnership of the Dorothy A. Johnson Center for Philanthropy and the Grand Rapids Community Foundation (GRCF). CRI's mission is to assist nonprofit organizations with the acquisition of information and technical skills that will help them understand the evolving needs of the community, document these needs for grant applications, and measure the success of programs in West Michigan.
In the 1990's Dr. Donna Van Iwaarden, faculty member at the School of Public and Nonprofit Administration (SPNA) at Grand Valley State University (GVSU) produced a document that summarized data about the Greater Grand Rapids area under the name "Community Data Initiative" (CDI). In 2001, with funding from the GRCF, Dr. Van Iwaarden and a newly appointed CRI Research Fellow and SPNA faculty member - Dr. Mark Hoffman, began evolving the CDI into an organization called CRI creating what she dubbed a "data - sharehouse."
Since then, CRI has been building its capacity to support the data - sharehouse concept, or Community Information Systems (CIS) by acquiring key data sets including census, housing, crime, voting, vital records, and public assistance information to help support the work of nonprofit organizations. Today, CRI areas of work include:
Program Evaluation Services:
Evaluation services assist organizations in assessing program effectiveness. Specifically:
Developing an evaluation design and measures to determine whether a program in having its intended impact

Designing data collection forms and procedures, and databases to capture and record data collected

Analyzing data and presenting results and conclusions from the findings
A Community Information System:
CRI is committed to building a growing "data-sharehouse" for neighborhoods and the region. Specifically,
Creating partnerships with community organizations to monitor changing local and regional social conditions

Disseminating information and reports through its website, always with consideration for privacy of individuals and households

Documenting information about data to increase community awareness on local, state, and federal sources of information and ways in which it can be used
University resource:
CRI also provides opportunities for Grand Valley's faculty, staff and students. Specifically:
Promoting the use of CRI services and tools among university research staff and faculty for research purposes

Providing internships to students from public administration, criminal justice, social work, geography, and information science that focus on how to document and analyze a variety of data sets and apply different technologies for community analysis
Activities
2014 - 2015
The Community Research Institute has released the first phase of Community Profiles 2.0 for the Grand Rapids area. This phase aims to build upon CRI's existing work in housing and economics within...
[read more]
January 2014
Begun in 2011, this dashboard is TALENT 2025's "go to" data source for the monitoring of ongoing improvement efforts around two major goals; (1) to achieve 60% post-secondary attainment in the 25...
[read more]
May 2011
On March 22, the U.S. Census Bureau released the 2010 redistricting data numbers for Michigan. The data includes summaries of population totals, race and Hispanic origin, housing totals and...
[read more]