Grand Rapids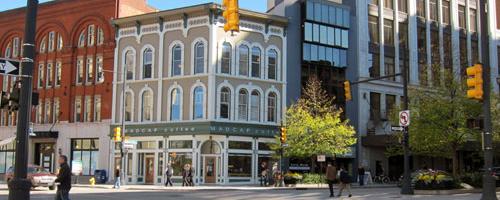 Community Data & Research Lab at the Dorothy A. Johnson Center for Philanthropy
RSS Feed
Subname:

Grand Valley State University
Since 2000, the Community Data and Research Lab (CDRL) (previously the Community Research Institute) at the Dorothy A. Johnson Center for Philanthropy at Grand Valley State University has provided research and data tools to support equitable community change. CDRL is committed to working alongside our colleagues in West Michigan and beyond to achieve healthy, empowering outcomes for all our neighbors.
CDRL assists nonprofits, foundations, and other organizations with the acquisition of information and technical skills that help them understand the evolving needs of the community, document these needs for grant applications, and measure the success of programs.
Our focus on making data useful and accessible in West Michigan is the inspiration for the Community Profiles Data Tools and the VoiceKent community survey. The Community Profiles Data Tools collect and display publicly available data sources including American Community Survey (ACS) data. VoiceKent is a county-wide survey that touches a wide variety of topics that are important to many organizations in the area. These tools allow organizations to understand community data at the county, city, and neighborhood levels here in Grand Rapids and across West Michigan. Our data tools can be found here: https://johnsoncenter.org/services/community-research/
History
The Community Research Institute (CRI) was first established as part of the Johnson Center in 2000, under the leadership of the Center's then-director Dr. Donna VanIwaarden. At the time, a group of local stakeholders – spearheaded by Diana Sieger, president and CEO of the Grand Rapids Community Foundation (GRCF) – envisioned a centralized hub for community data collection and analysis that could help West Michigan's leaders make decisions for the public good, decisions based on evidence rather than guesswork. It was Diana's enthusiasm and GRCF's generous support – both in the beginning and throughout the history of the Johnson Center – that helped make CRI a reality.
In 2019, CRI became the Community Data and Research Lab (CDRL). This change reflected an internal shift at the Johnson Center toward collaborative, networked teams. The shift also reflected the changing needs of the social sector. CDRL has begun to lean more intentionally into data and technology innovation that is designed for a social sector audience and supports nonprofits and funders in their desire to make data-informed decisions.
Activities
2014 - 2015
The Community Research Institute has released the first phase of Community Profiles 2.0 for the Grand Rapids area. This phase aims to build upon CRI's existing work in housing and economics within...
[read more]
January 2014
Begun in 2011, this dashboard is TALENT 2025's "go to" data source for the monitoring of ongoing improvement efforts around two major goals; (1) to achieve 60% post-secondary attainment in the 25...
[read more]
May 2011
On March 22, the U.S. Census Bureau released the 2010 redistricting data numbers for Michigan. The data includes summaries of population totals, race and Hispanic origin, housing totals and...
[read more]
Partner Webinars
December 31, 1969
Idea Showcases are 5 minute opportunities to highlight or talk about the great work our organizations are doing. We had a great line up for this showcase!  The Boston Indicators...
[read more]
Presenters
Trevor Mattos, Boston Indicators, Jeff Matson, Center for Urban and Regional Affairs, Jeff Williams, Community Data &amp, Research Lab at the Johnson Center