Housing Market Data Guides Neighborhood Investment Strategies
Author:
Jake Cowan and Tom Kingsley
Date Posted:
July 6, 2011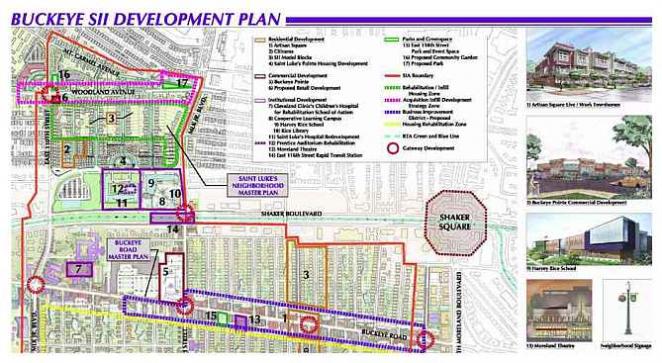 The Center on Urban Poverty and Community Development, a research institute housed at Case Western Reserve University's Mandel School of Applied Social Sciences, has been working with Cleveland's Strategic Investment Initiative (SII) to address the problem of vacant and abandoned properties and stimulate market recovery in six Cleveland neighborhoods since February of 2005.
SII participants include Neighborhood Progress, Inc. (a local community development intermediary), the Community Advocacy Clinic at Cleveland State University's Law School, governmental agencies and six community development corporations (CDCs) representing the neighborhoods that are part of the Initiative.
Case Western provides the SII with data from NEO CANDO (Northeast Ohio Community and Neighborhood Data for Organizing) and other sources about the housing market in the six neighborhoods targeted for redevelopment by the Initiative. These data are being used by CDCs to guide their property acquisition and investment strategies. The data supplied by Case Western includes a comprehensive inventory of  properties in each neighborhood, with details on who the current owners are, the transfer history of the property, and the condition of the property (blighted, vacant or abandoned).
Data on property conditions come from on-site surveys (conducted by CDC staff) that are integrated with administrative property data. If a CDC already owns a property, it uses these data to identify properties that are nearby that are good candidates for acquisition because they are vacant, abandoned or have an absentee owner. Additionally, CDCs view these data on a map to look for clusters of properties that are good acquisition targets, regardless of whether the CDC has an existing ownership stake in the cluster.
In some cases where CDCs successfully make contact with the owner of a targeted property the CDC has been able to successfully negotiate to acquire the property. CDCs are using Case Western's data on property values to assist in determining an acquisition price.
In cases where the owner cannot be located or is nonresponsive, the CDCs work with Cleveland State's Community Advocacy Clinic to take court action to resolve the nuisance. This partnership with the Community Advocacy Clinic has successfully forced some owners to take action to cleanup their properties, and has also resulted in the transfer of some properties to CDC control.
These data are updated on a monthly basis so that CDCs can adapt their strategies in response to changing conditions. CDCs are continuing to acquire properties and have already torn down a number of blighted properties in anticipation of building new units. The work with the SII groups is part of a larger more ambitious effort known as the Vacant Property Coordinating Council. This coordinating council is concerned with broader policy reform in the arena of vacant and abandoned property. Representatives from Cleveland's community development industry, the City of Cleveland, Cuyahoga County, the Northeast Ohio First Suburbs consortium, and foundations sit on the Council. Additions to the parcel report within NEO CANDO are a result of the interaction with the SIIs and the Vacant Property Coordinating Council.
This story was initially published in Stories: Using Information in Community Building and Local Policy in June 2007.
This story was written by staff at the Urban Institute, drawn from documents and interviews with Michael Schramm and Claudia Coulton of The Center on Urban Poverty and Social Change. The Center on Urban Poverty and Community Development is the Cleveland partner in the National Neighborhood Indicators Partnership, a learning network in 30 cities coordinated by the Urban Institute. All partners ensure communities have access to data and the skills to use information to advance equity and well-being across neighborhoods.
Related Stories:
July 24, 2019
In 2019, the City of Chicago embarked on a new...
[read more]
July 5, 2011
The Baltimore Neighborhood Indicators Alliance (BNIA) produced a report for the Executive Director of Baltimore's Healthy Neighborhoods Initiative, Inc. (HNI, Inc.) that...
[read more]