Adriana Paz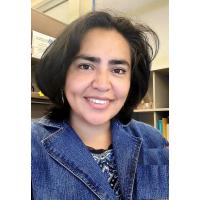 Adriana Paz
Senior Database Administrator
Adriana Paz currently serves as the Senior Database Administrator at the Johnson Center for Philanthropy in Grand Rapids, Michigan. In this role, she is responsible for database development and administration, and oversight of data systems security. Adriana has 16 years of experience in software development and is passionate about all things data. Adriana proactively works to create a culture of data, hoping to help generate data-driven strategies in ways that lead to measurable community impact.
Previously, Adriana was director of projects at ASEINFO and managed a diverse IT team implementing human resources administration systems across South America, Central America, and the Caribbean. Before that, as director of international technology communications, she led research and development strategies, policies, and plans for a privately funded web- and system-design initiative in St. Louis, Missouri, in partnership with the Technical University of Sofia in Bulgaria.
Adriana is currently pursuing a postgraduate degree in applied artificial intelligence at Erasmus University in Brussels, Belgium. She earned a master's degree in computer information systems from Grand Valley State University (GVSU), and a bachelor's degree in systems engineering, informatics, and computer science from Francisco Marroquín University in Guatemala City, Guatemala.
At GVSU, Adriana serves on the Big Data Advisory Council and Latino/a Faculty and Staff Association executive board; is a founding member of the AP Social Justice subcommittee, and is an affiliate research faculty member of Padnos College of Engineering & Computing. Adriana mentors young professionals through the Michigan Council of Women in Technology and GVSU students through the Fostering Laker Success program. Adriana volunteers as an information systems security advisor for nonprofits in West Michigan.
Technical Skills:
Data management, Data visualization and design, Information design, Website development