New report details inequities for women in eastern Connecticut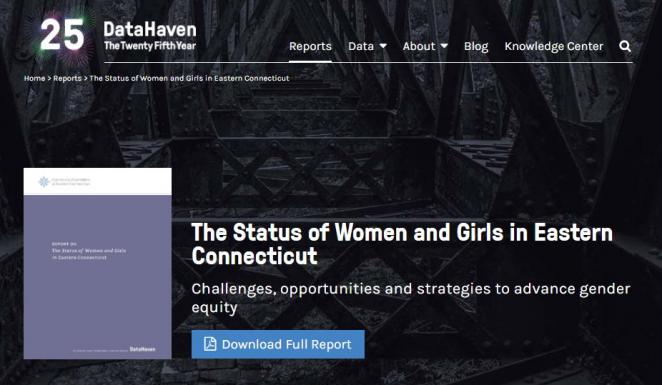 Excerpt on new DataHaven / Community Foundation report from The Day, New London: A recently released report commissioned by the Community Foundation of Eastern Connecticut details inequities faced by women in New London and Windham counties in the realms of economic security, education, health and well-being, and leadership.
The median full-time income in eastern Connecticut is $46,000 for women and $56,000 for men. While women make up 76 percent of K-12 public school educators nationwide, only 11 of the 41 public school superintendents in the region are women. In 2015, women in the region made up 24 percent of offenders in family violence incidents but 71 percent of victims.
"Equity is not about advancing women at the cost of men," said Maryam Elahi, president of the Community Foundation. "But when you think about equity, it's really about understanding that when women have the same opportunities as men, the family and the community prosper."
The report was released on Feb. 8 at EASTCONN, a regional educational service center in Hampton. A second release event was held Thursday evening at the Garde Arts Center.
The 26-page report was compiled by DataHaven, with data from the U.S. Census Bureau, Connecticut Office of the Chief Medical Examiner, DataHaven's Community Wellbeing Survey and more. See http://ctdatahaven.org/reports/status-women-and-girls-eastern-connecticut for the report.