Columbus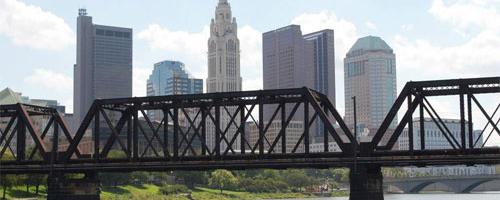 Community Research Partners (CRP) is a non-profit research, evaluation, and data center based in Columbus, Ohio, with a mission to strengthen communities through data, information, and knowledge. CRP is a partnership of the City of Columbus, United Way of Central Ohio, The Ohio State University, and the Franklin County Commissioners. Since its inception, CRP has undertaken hundreds of projects in central Ohio, statewide, and across the country. We conduct social and demographic data collection and analysis; manage focus groups, interviews, and surveys; and perform thorough programmatic evaluations. We use all of the data at our disposal to develop concise, usable reports for a wide range of audiences.  With every project, our goal is to partner with our clients to turn data into information that can guide organizational and community decision-making.  
CRP's research and evaluation philosophy is one that recognizes the importance of a) taking time to do good upfront planning; b) involving stakeholders throughout the process; and c) creating products that are sufficiently detailed, and enhanced with graphs, charts and other visuals, to improve clarity and understanding.  CRP's approach balances methodological rigor with user-friendly processes and products. CRP is staffed by a highly educated, strongly credentialed team of experts with varied backgrounds including psychology, sociology, city and regional planning, geography, health planning and promotion, and law.
DataSource: The Franklin County, Ohio, Community Data System
Community Research Partners has worked with a coalition of funders and data providers since 2001 to develop DataSource, a state-of-the-art, on-line community statistical system that collects, organizes and makes accessible data to support analysis and action by organizations and individuals. The system was developed for Community Research Partners by the Cartographic Modeling Laboratory at the University of Pennsylvania, based on a similar system developed for Philadelphia, and is hosted by the Columbus Department of Technology. Users of the system can create, customize and download maps, tables, summary statistics, charts and trend graphs from their desktop for a variety of geographic areas in Franklin County, including census tracts, municipal jurisdictions, zip codes and school districts. Users include funders, public officials, service providers, neighborhood and grassroots organizations, researchers and students.
The first release of the system includes census, social services, education and property data, with 275 data elements. CRP, as manager of the system, is responsible for convening the multi-agency System Policy Group, maintaining an update protocol, and working with community organizations to add new data elements and geographies. The test version of the system was completed in 2004, and it was publicly released at CRP's 5th anniversary event in October 2005.
CRP has developed both classroom and electronic training curricula and is providing training and technical assistance for individuals and organizations in how to use the DataSource system, as well as in how to use the data that reside in the system. In addition, CRP uses the data in DataSource for its community indicator and research projects.
Activities
July 2012 - November 2012
CRP and the Thomas B. Fordham Institute are partnering to conduct research on student mobility in Ohio. This first-of-its-kind research, to be completed by fall 2012, will analyze Ohio Department...
[read more]
July 2012
The Ohio Education Research Center will produce and carry out a P-20 education research agenda in collaboration with the Ohio Department of Education and the Ohio Board of Regents. Led by the OSU...
[read more]
January 11, 2012
The U.S. Department of Housing and Urban Development awarded a $300,000 Choice Neighborhoods Initiative Planning Grant to Columbus Metropolitan Housing Authority on behalf of a partnership that...
[read more]
Partner Webinars
November 17, 2016 - 1:00pm
In 2014, we began holding virtual idea showcases after partners expressed the desire for more NNIP conversations between in-person meetings. Thanks to Idea Showcases, partners have shared their...
[read more]
Presenters
Diane Gavarkavich, Rania Ahmed, Sarah Marxer, Marcus Erridge, Pam Hinkle
May 22, 2014 - 1:00pm
...
[read more]
Presenters
Leah Hendey, Rob Pitingolo, Kathy Pettit, Bob Gradeck, Jeff Matson, Greg Sanders, Aaron Schill, Eleanor Tutt, Mingming Zhang