Video: Policy Breakfast on Local control in land use decisions: Implications for affordable housing
Furman Center for Real Estate and Urban Policy

(New York)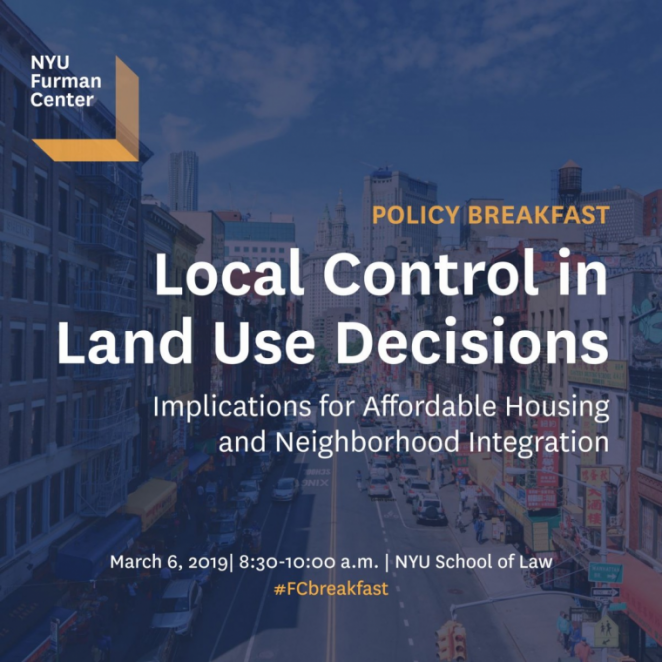 On March 6th, the NYU Furman Center hosted over 200 participants for the policy breakfast "
Local control in land use decisions: Implications for affordable housing and for neighborhood integration
". A diverse panel of housing advocates, legal scholars and practioners debated the benefits and drawbacks of local control, and the merits of moving land use decision-making towards the city level.  The panelists explored perspectives that were recently published in the Dream Revisited essay series, the NYU Furman's online forum of contemporary policy debates about housing, segregation, and opportunity.
NYU Furman Center Faculty Director Vicki Been moderated the panel discussion, which included:
Roderick Hills, William T. Comfort, III Professor of Law, NYU School of Law
David Schleicher, Professor of Law, Yale Law School 
Elaine Gross, President, ERASE Racism
Paula Segal, Senior Staff Attorney, Equitable Neighborhoods Practice, Community Development Project
John Shapiro, Professor, Pratt Institute Graduate Center for Planning and the Environment
Click here for a full video of the policy breakfast.
Read the Dream Revisited Discussion: Local Control, Affordable Housing, and Segregation.
Learn more about the Charter Revision Commission.