Tackling Community Challenges at Milwaukee's Second Annual Data Day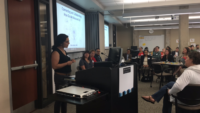 Data You Can Use partnered with Healthier, Safer, More Prosperous Milwaukee to hold Milwaukee's second annual Data Day on May 31. The day's activities focused on high quality, actionable data in the areas of criminal justice, public health and community development. Over the course of the day, more than 90 dataphyles from all over Milwaukee came to learn, share and connect. Neighborhood champions, data scientists, government leaders, researchers and data visualization specialists shared innovative, insightful and informative projects.
The day featured a keynote by Veronica Gunn is Vice President of Population Health Management and Payment Innovation at Children's Hospital of Wisconsin, as well as several small group sessions. Fourteen organizations, including the Metropolitan Milwaukee Fair Housing Council, the city Police Department, and the Clarke Square Neighborhood Initiative presented 5-minute inspiring Ignite presentations. To mark the occasion, Mayor Tom Barrett proclaimed May 31 "Data Day" for the city. 
Another highlight of the event was the Data Dream competition, where Milwaukee-based volunteer neighborhood groups, churches and nonprofits competed to win up to $5,000 worth of free data support to support the data needs of a Milwaukee neighborhood to collect or analyze data in 2017.