Kinder Institute for Urban Research launches Urban Data Platform
Kinder Institute for Urban Research

(Houston)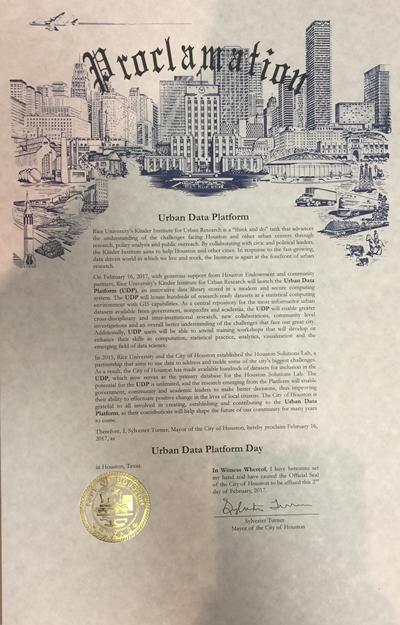 On Feb. 16, Rice University's Kinder Institute launched the Urban Data Platform (UDP), an innovative data library stored in a modern and secure computing system. The UDP will house hundreds of research-ready datasets in a statistical computing environment with GIS capabilities. As a central repository for the most informative urban datasets available from government, nonprofits and academia, the UDP will enable greater cross-disciplinary and interinstitutional research, new collaborations, community-level investigations and an overall better understanding of the challenges facing Houston.
In 2015, Rice University and the city of Houston established the Houston Solutions Lab, a partnership that aims to use data to address and tackle some of the city's biggest challenges. As a result, the city has made available hundreds of datasets for inclusion in the UDP, which now serves as the primary database for the Houston Solutions Lab. To honor the launch, Houston Mayor Sylvester Turner proclaimed Feb. 16 as Urban Data Platform Day.
Martin O'Malley was 
the 61st Governor of Maryland from 2007 to 2015. He previously served as the Mayor of Baltimore from 1999 to 2007, and was a Baltimore City Councilor from 1991 to 1999.