Pittsburgh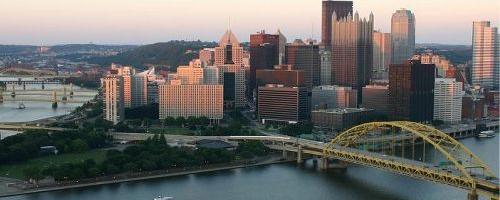 University Center for Social and Urban Research
RSS Feed
Contact:
Sabina Deitrick, Associate Professor, Graduate School of Public and International Affairs
The University Center for Social and Urban Research was established in 1972 as a hub for interdisciplinary basic and applied research in the social and behavioral sciences, with programs in Urban and Regional Analysis, Survey Research, Gerontology, and Qualitative Data Analysis.  The Urban and Regional Analysis program centers on applied research and outreach in economic and community development, planning, and urban revitalization issues in the Pittsburgh region and is home to community-based indicator systems and data analysis focused on our region, including:
The Western Pennsylvania Regional Data Center supports key community initiatives by making public information easier to find and use. The Data Center provides a technological and legal infrastructure for data sharing to support a growing ecosystem of data providers and data users. The Data Center maintains Allegheny County and the City of Pittsburgh's open data portal, and provides a number of services to data publishers and users. The Data Center also hosts datasets from these and other public sector agencies, academic institutions, and non-profit organizations. The Data Center is managed by the University of Pittsburgh's Center for Social and Urban Research, and is a partnership of the University, Allegheny County and the City of Pittsburgh.
Southwestern Pennsylvania Community Profiles, a web-based software tool to present community data and indicators through a series of visualizations, including tables, maps, graphs and charts, with information from dozens of local, state and federal data sources, at geographic scales from blocks, census tracts, and neighborhoods to zip codes and municipal and county levels, over 10 counties in Southwestern Pennsylvania.
Pittsburgh Today, a comparative indicator project across fourteen regions in the U.S., providing in-depth data and data analysis across eleven critical parts of the regional economy and social fabric.  Pittsburgh Today measures and compares the Pittsburgh region's strengths and weaknesses, with its analysis and discussions sparking a more informed public dialog among policy makers, elected officials, initiatives and educational institutions about the health and vitality of the Pittsburgh region.
Activities
June 2013 - December 2015
The Pittsburgh Neighborhood and Community Information System (PNCIS) within the University Center for Social and Urban Research at the University of Pittsburgh is working with the Allegheny County...
[read more]
January 22, 2015
NNIP executive committee members, Eleanor Tutt (Rise in St. Louis) and Bob Gradeck conceived of our latest joint activity to exchange ideas and build community - a weekly NNIPChat on Twitter on...
[read more]
Partner Webinars
June 9, 2016 - 1:00pm to 2:00pm
In 2014, we began holding virtual idea showcases after partners expressed the desire for more NNIP conversations between in-person meetings. Thanks to Idea Showcases, partners have shared their...
[read more]
Presenters
Maxwell Austensen, Mingming Zhang, Anthony Galvan, Bob Gradeck
May 22, 2014 - 1:00pm
...
[read more]
Presenters
Leah Hendey, Rob Pitingolo, Kathy Pettit, Bob Gradeck, Jeff Matson, Greg Sanders, Aaron Schill, Eleanor Tutt, Mingming Zhang