Jeremy Pyne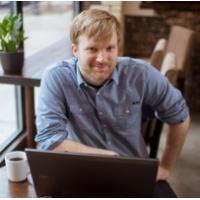 Jeremy Pyne
Senior Program Manager
Jeremy joined the Community Research Institute in 2006 as a GIS Specialist where he specializes in demographic mapping, GIS data analysis, address level datasets, federal datasets, data management, project management and Open Source GIS. Jeremy is the project manager for the CRI MAPAS site that was launched in 2008 and is actively involved in all data content utilized in CRI interactive tools and projects. His experience in mapping and content has helped frame how CRI disseminates data to the West Michigan community. In 2008 he was co-author of a published paper titled "The Brain Drain Wars: Characteristics of Recent Movers into and out of Michigan" using American Community Survey Public Use Microdata Samples. Currently, he teaches the GIS in public service course in the MPA program at Grand Valley State University and conducts community training sessions on public web-based data sources and tools.
Growing up in northern Kent County he has a strong knowledge of the West Michigan area calling this area his home for more than 30 years. 
Jeremy holds a Masters of Public Administration degree (MPA) with a focus on Urban and Regional Affairs and a B.S. in Geography both from Grand Valley State University.
Technical Skills:
GIS/mapping