Mark Chupp Discusses Foreclosed Severance Town Center in Freshwater Cleveland
Center on Urban Poverty and Community Development

(Cleveland)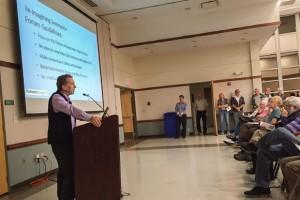 Severance Town Center in Cleveland Heights went into foreclosure this past June. Dr. Mark Chupp, a faculty associate of the Poverty Center, participated in a public forum about the troubled retail property as reported by Freshwater Cleveland in "Cleveland Heights residents voice their ideas for a city landmark" on November 19, 2015.
"There were some people interested in the mall when it was in its heyday," said Chupp who presented during the forum as a board member of Future Heights. He explained that Severance, as the first mall in Ohio, was an attraction in the 1960s. However, as the purpose of the space changed, the Center no longer reflected the culture or landscape of Cleveland Heights.
"But now a much bigger concern is the changing nature of real estate, the changing nature of demographics and migration within the region, and what it means for Cleveland Heights to have a major piece of land going in free fall. I think people are concerned about what will happen in our community."
Dr. Chupp believes the open forum was not to begin a planning process on what to do with the beleaguered property. "It was to say we know this is a problem, there are going to be changes and we need to pay attention to it and to begin a dialogue between concerned residents and city leaders."