Lead Poisoning Makes Education Harder
Center on Poverty and Community Development

(Cleveland)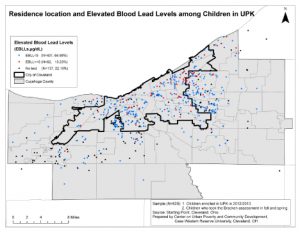 In the series "Toxic Neglect", the Cleveland Plain Dealer has been running stories on the problems of lead poisoning on young children. Dr. Robert Fischer, co-director of the Poverty Center, was interviewed for "Lead poisoning makes education harder for kids and teachers" on October 22, 2015.
"When they arrive in preschool they're significantly behind developmentally," said Dr. Fischer about children who test positive for lead in their blood. "That continues even after exposure to high-quality preschool environments. We're not saying that high-quality early care doesn't work with lead-exposed children, just that they need more than we're currently offering them."
The article also discussed the June 2015 report from the Poverty Center and Cuyahoga County Invest In Children on the effects lead poisoning has on kids in the county's pre-kindergarten programs. All the children with lead in their blood did worse on every evaluation than those without lead poisoning. Also, those with higher lead levels did the worst. By the end of the year's program, those with lead exposure were behind even the children who had never been tested were at the start of the year.
Though there are reports and evaluations showing the difficulties children with lead poisoning face in early education, the studies may not be having a big impact on the school district. Fischer noted that nothing is being tracked after kindergarten on how their learning may still be affected.
The Poverty Center has been examining the effects of lead poisoning and prevention for numerous years. Read our 2013 evaluation on Invest In Children's lead prevention project.
The map above is from the unpublished June report: The Association between Elevated Blood Lead and School Readiness among Children attending Universal Pre-Kindergarten in Cleveland.