Impact of Foster Care and Juvenile Justice on Future Youth Outcomes
Center on Poverty and Community Development

(Cleveland)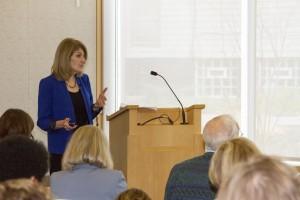 On November 5, 2015, Dr. Claudia Coulton presented the talk "Exploring the Impact of Foster Care and Juvenile Justice Involvement on Future Youth Outcomes" at the Mandel School as part of the Schubert Center for Child Studies' Conversation Series. This talk discussed a study on 9th graders in the Cleveland Metropolitan School District from 2005 to 2008.
The study found that almost 25% of 9th grade students in Cleveland were touched by the foster care and/or juvenile justice systems by the age of 18. Youth in foster care had four times the risk of homelessness than non foster care youth. Also, youth with chronic school delinquency (missing more than 10% of school days) had seven times the risk of going to jail.
Joining Dr. Coulton for the discussion were Thomas Pristow (Director of Cuyahoga County Division of Child and Family Services), Kate Lodge (Project Director for A Place 4 Me of YWCA) and Judge Denise N. Rini (Cuyahoga County Juvenile Court).
You can download the Schubert Center's research brief and the presentation slides from the talk here (PDF). In addition to Dr. Coulton, who is the co-director for the Poverty Center, the presentation and the study had contributions from Center associate director Dr. David Crampton, senior research associate Dr. Seok-Joo Kim, and doctoral graduate assistant Youngmin Cho.