Housing First for Families and Young Adults Program Evaluation
Center on Urban Poverty and Community Development

(Cleveland)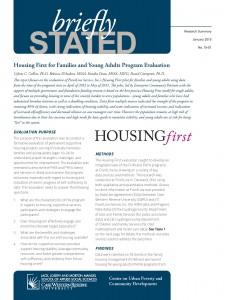 The Center on Urban Poverty and Community Development has recently released the Briefly Stated report "Housing First for Families and Young Adults Program Evaluation" on FrontLine Service, Inc.'s pilot program. The pilot is based on the best practice Housing First model for single adults, and focuses on providing housing to some of the county's hardest to serve populations: young adults and families who have had substantial homeless histories as well as a disabling condition.
Data from multiple sources indicated the strength of the program in retaining 89% of clients, with strong indications of housing stability, and some indications of increased income, and indications of increased self-sufficiency and decreased reliance on case managers over time. However the population remains at high risk of homelessness due to their low incomes and high needs for basic goods to maintain stability, and young adults are at risk for being "lost" to the system.
Click here to read the full Briefly Stated report (PDF). The report was written by Cyleste C. Collins, Ph.D. Rebecca D'Andrea, MSSA, Kendra Dean, MSSA, MNO, and David Crampton, Ph.D. Funding for the evaluation was provided through The Sisters of Charity Foundation, the Department of Housing and Urban Development Section IV and the William J. and Dorothy K. O'Neill Foundation.